Worming our way to the finish line on Strangecreek Sunday. Camp Kee Wanee Greenfield, MA May 28 2023
Photos by Vinny Natale
We've had a long history of going to Strangecreek and seen it from many angles. Usually, or at least the last ten years or so, m'lady has had a clothing booth, and she dubbed Sunday SALTY SUNDAYS… This usually featured a lot of sarcastic banter that we thought quick witted, but may have been just a long weekend of inside jokes. This year was different for us, and our agenda didn't include vending, but rather another packed day of musical exploration.
For early risers you could catch Andrea's Adventure Yoga, but count me among those who are not quite that adventurous bright and early. The annual KIDS SET hit the stage for a nice showcase of our Worm Future, and a good time sing along by the family campers. That's always a nice way to start your Sunday with some cuteness, some leisurely coffee and stretching, and then off to the races with the music.
Mama's Marmalade started the program before the kids set with a quick set of Pioneer Valley bluegrass. I recorded it but the wind made the playback not as pleasant as I may have hoped. But curious fans can seek them out at New England music venues to check their brand of traditional and modern folk and bluegrass music.
After the kids set Rev Tor Band took the main stage in what has become their accustomed position. Unlike the other projects that Tor has been helming over the last decade or so, the Rev Tor Band is now more than two decades in and features Tor performing a songbook of original material. So while they may pepper in a cover or two, including "I Know What I Know" by Paul Simon off of his Graceland album, the set showcases Tor as a band leader and a writer in ways that his other projects can not. Plus, Brian O'Connell is playing bass in what seems like his third band that weekend (Dead Man's Waltz, Arukah), and he is a joy to watch and hear. It's always a treat to get a Rev Tor Band set.
Rev Tor setlist:
The Light
The Shadows
Might just be
Grateful Dawg
Outside Looking In
I Know What I KNow
Stain
Git To Get Close
Right Around The Corner
Free Your Mind
Full set audio below:
Next up on the main stage was North Carolina's The Get Right band. This trio has made a few stops at Wormtown it seems. They mix elements of reggae and indie rock in a way that is not unlike say the Police, but in a style all their own. They are touring throughout the East regularly it seems, and mentioned stops throughout the northeast while they were on the main stage.
I especially liked the segue from the 80s classic "Video Killed the Radio Star" to the band's original "Nothing on the FM." The message of the two songs mixed well, and the pairing illustrated a bit of self awareness that is cool to see in a band.
This particular Strangecreek I spent much more time at Vernville than I had ever before, and this was partly because the schedule there contained some great bands that I had not ever seen. It seems as if the festival promoters are programming better and more far reaching acts to fill out these stage schedules. Another cool aspect of this year's Strangecreek was the presence of some elder bands- musicians who have been doing this for fifty years or more, from festival headliners Max Creek, to Bobby Messano from Kofi Baker's Cream Faith, to the next band up for me on the Vernville stage, Professor Louie and the Crowmatix.
Louie was the producer of the final three album by The Band, was in bands with Levon Helm and Rick Danko after that, and engineered the recent Grammy nominated album by Guy Davis. He was at Chicago's Soldier's Field with the Band opening for the Grateful Dead in 1995, for what would be the final performances by the Grateful Dead with Jerry Garcia. Through some not so simple twists of fate Louie ended up running the front of house sound for that weekend, while jamming on the concertina with Garcia backstage. His life is filled with stories of recording and performing from one corner of the globe to another.
Being both a student of early American roots rock, and one of its contributors, Professor Louie is uniquely poised to perform this music and encapsulate a time and a scene through his band's performance. He recognized Bob Dylan's birthday and played a fair amount of material by Dylan, but also The Band and his own original music, too. Louie plays the keyboards, Miss Marie who is another decorated veteran of the American roots scene sings and plays percussion by his side center stage, and they are flanked by a crack band with bass, guitar, and drums all coming together to form the base upon which Louie conducts his roots music lesson for an eager audience. It took a minute, but it became clear that those who stumbled into Vernville figured out the caliber of who was visiting and love was traded between the stage and the audience quite readily. American roots music isn't merely a genre title, but rather a fundamental truth when it comes to the foundation that this music provides this scene when it comes to historical figures and a rich song book that continues to feed and inspire the jam and modern rock scene.
Setlist:
Blind Willie McTell (Bob Dylan), Million Dollar Bash Take 2 (Dylan), I'm Going to Play the Honky Tonks, A Thousand Ways, Atlantic City (The Band but authored by Bruce Springsteen), Low Down, Ophelia (The Band), Watch the River Flow (Dylan), Rag Mama Rag (Dylan), Open Hand Open Heart, Scarlet Begonias (the Grateful Dead), The Weight (The Band.)
I stuck around and chatted with Professor Louie and his band, and assited in load out, because after all the elders deserve our help and respect.  As I was wandering back to my own camp, I passed by the main stage and decided to drop my recorder while I was wandering around.  Baked Shrimp were cooking up there on the main stage, so I'm glad that I grabbed the recording for a few songs.  Baked Shrimp seem to be breaking their way into the jam scene, and their name is appearing on a lot of festivals of late.  Their cover of Mama Tried did not resemble either the original or the Dead's version, but rather put a funky disco twist on the classic song.
I only caught a few songs while I was meandering from Vernville back toward my camp preparing for dinner.  But when you're at a smorgasbord, you don't have to eat a full meal of every sampling, you're allowed to try a little taste here and there, particularly when the dish is Baked Shrimp.  (BTW,  I had a sneaking suspicion I had seen Baked Shrimp before…  So I went to the search bar at the top right of the website and put Baked Shrimp into the search engine and found this show of theirs that I saw with Flux Capacitor in NYC years ago.  Read the review of that show here.)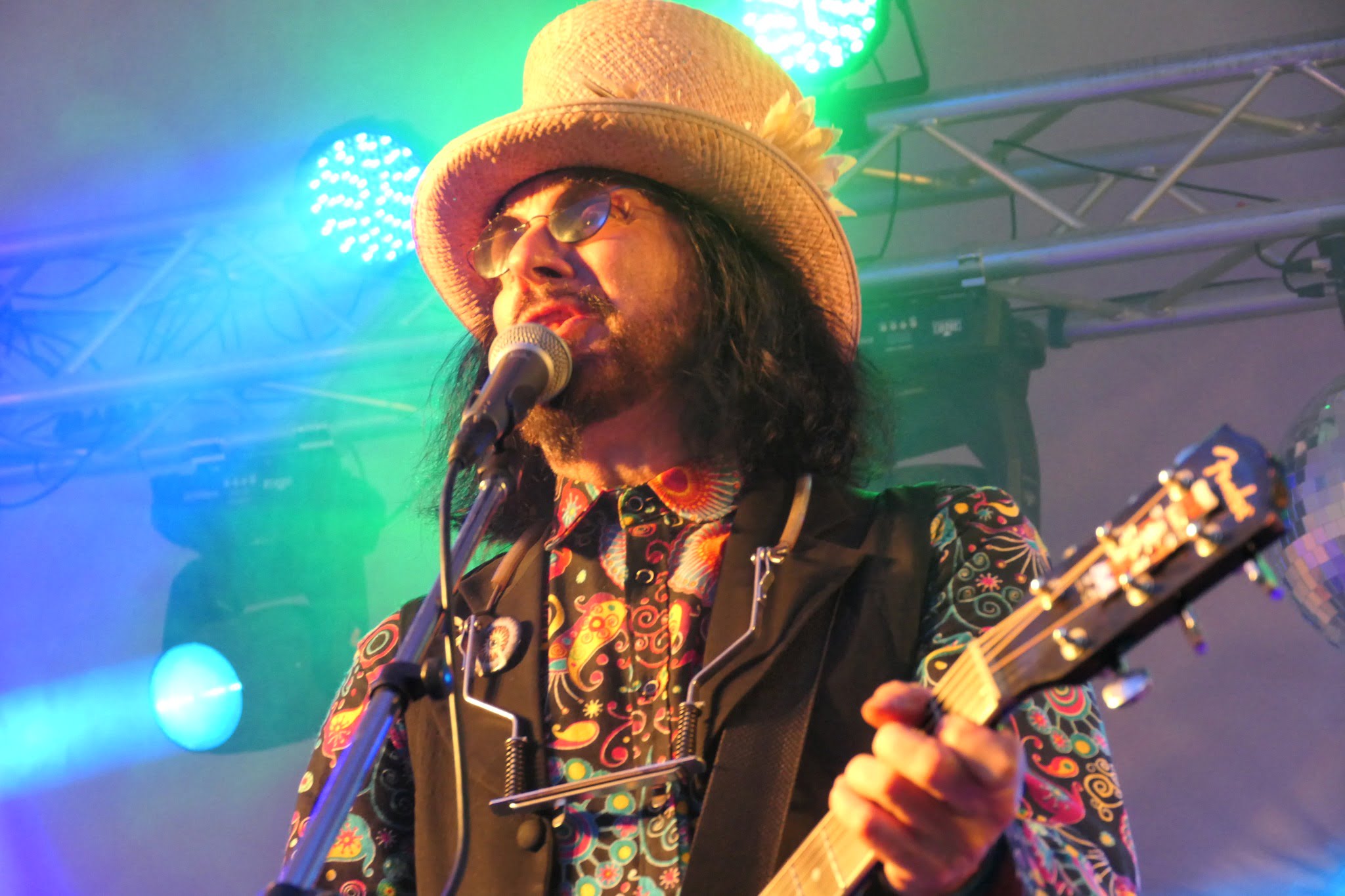 After dinner it was back to Vernville for me.  I was super stoked to see the Strangecreek debut of the Slambovian Circus of Dreams.  I had seen them recently at the Shea Theater in Turners Falls MA and I believed that they would be a perfect fit for Strangecreek.  And when the crowd sized doubled each song it seemed like a premonition.  By midway through their set the Vernville grove was suddenly packed and alive, with a spirited crowd singing along to songs they did not yet know, and vibing with the band, hard.
The Slambovian Circus of Dreams is a crazy amalgam both visually and aurally.  Visually it's some sort of explosion of paisley steam punk Alice in Wonderland Around the World in 80 Days vibeyness…  Musically speaking it's got a 'what if Bob Dylan fronted the Beatles' sensibility.  The influence is directly channeled from the Beatles Revolver / Rubbel Soul time frame, and lead singer guitarist Joziah Longo is parts mad hatter and The Music Man (Robert Preston era) leading us all on some wild goose chase via the songs he channels directly from his warped sense of humor and whimsy.
The band is tight and with Sharky shredding lead guitar riffs, RJ McCarthy playing every sort of instrument, and Tink Lloyd holding her own court with vocals, flute, accordion and a deep thoughtfulness that seems to somehow permeate the music no matter what sounds she is making.  The bass and drums rhythm section provides the foundation, and this Circus of Dreams conducts their train straight from Slambovia and into the imagination.  The train went from figurative to literal as during the last song of the set a giant conga line dance train was formed and serpentined its way around the crowd.  This is one of those Strangecreek performances that you just know will be leading to the band returning again and again.
Whole show audio:
The Alchemystics closed out the Vernville weekend with the final performance on that stage. The Infamous Stringdusters were on the main stage and commanding a huge crowd in the main concert field, but I had seen them a few times in the last few years and wanted to go catch my whole festival family with the Alchemystics. What I had previously thought was a packed crowd at Vernville was nothing compared to the throngs assembled- it was amazing to think that there was a huge crowd elsewhere as by the feel of things every person at the festival was at this Alchemystics set.
It was easy to see why too, as band members old and new were joined by rappers, emcees, horns, and guests of all manner. Off the top of my head horn player guests included Cat Ball (of the Mary Jane Jones and Fat Bradley) on trombone and her husband Chris Ball shirked his normal bass playing and instead was playing saxophone (Brother Sal, Llama Lasagne, and nearly every band in the Pioneer Valley.) I noticed Matthew King, long time percussionist with the Alchemystics but more recently with Taproots up on stage with his percussion rig- he was eventually joined by Tobey LaRoche (rice an American Band, formerly of Shakazoba)… Woody from Rebel Alliance was joining on vocal harmonies, supporting Ian-I on the melodies. Rap Dad Force was the ring leader, letting words fly and representing the whole Worm family well with his conscious rhymes. A constant parade of quality musicians came and went and at one point it seemed like there were twenty people onstage.
This set, and this band, have a way of bringing the Worms together in a way that no other band can. It's as if the crowd has been living, loving and learning alonside the Alchemystics, triumphs and tragedies all shared in a collective Worm experience that is palpable. The love and aspirations that the band has was traded back and forth from stage to crowd to stage to crowd and back again. It was a perfectt capper to the weekend's musical offerings.
Somehow the weekend and festival were not over. Though darkness had blanketed the festival, the bonfire was bright lighting up the spot between the two late night cabins. I had enough energy to catch New England's late night funk king, Beau Sasser, and his Escape Plan. The basic band trio of Bill Carbone on drums (Max Creek), Justin Henricks on guitar (Wurliday) and Beau Sasser anchoring on keyboards and vocals (Kung Fu, Uncle Sammy, and more.) This night they added sax player Rob Somerville, and it warmed the set immediately (also a veteran of Kung Fu and other bands.)
During the set that spanned over two hours, Beau Sasser's Escape Plan was joined by Mike Bafundo of West End Blend on trumpet and some vocals. Once invited, he didn't stray and stayed for the rest of the set. Another guest joined in guitarist Dan Thomas whose licks have graced nearly every good band in western MA over the last ten years. The end result was another perfect summation of weekend and New England music scene- a set of deep funk that explored every nuance available. The set lasted longer than my ability to stay upright, but my trusty recorder caught the entire show.
Wormtown can not come soon enough. It's amazing how well the New England festival scene is book ended by these two great festivals. See y'all in Greenfield in September.
To submit an article an article or review, or to just say hello hit us at lmnandr@gmail.com
Also- check out the search feature in the upper right hand corner and search for your favorite artist, event, venue or genre. You'll be surprised at what you find!
Check out the Live Music News and Review.com Facebook page for updates and announcements.