The band is composed of a combination of these great musicians:
On September 3rd, 1977, the Grateful Dead headlined one of the largest and most musically successful concerts of all time at Raceway Park in Englishtown N.J. In addition to the Dead, who had just completed its legendary Spring / Summer 1977 tour featuring a batch of new material from Terrapin Station, the show also included the Dead family's New Riders of the Purple Sage and the good-time, southern rock Marshall Tucker Band. This tribute extravaganza will feature healthy "doses" of selections from each band's sets that day with a relaxed, festival style program.
Guitar/Vocals: Tom is one of the NY area's most versatile guitarists and also happens to be the foremost disciple of Bob Weir, arguably the best and most unique rhythm guitarist in rock history. In addition to Zen Tricksters, Tom also plays with the unique Dead On Live and Jam Stampede.
Guitar/Vocals: After decades-long stints with Hot Tuna and the New Riders of the Purple Sage, Michael has earned nothing less than iconic status as one of the most authentic figures on the blues / jam band scene. Over the years, Michael's evocative singing, intuitive guitar playing and songwriting skills have earned him a large and loyal following worldwide.
Bass/Vocals: In Klyph, along with Tom and Dave (below), the Englishtown Project is fortunate to have 3/5ths of the classic lineup of Zen Tricksters, the best and longest running Grateful Dead-centric band in the Northeast. Not only is Klyph an outstanding bassist, he is also an excellent guitarist and one of the most accomplished musicians on the Jam Band scene today.
Lead Guitar/Vocals: Having already developed into a formidable blues rock player at the age of 12 by studying Eric Clapton and Jorma Kaukonen, Rob entered the world of Grateful Dead music in '69 and continued exploring ever since. Notable projects include Dead Sage, Joe Gallant's Illuminati Orchestra, and DeadCenter All Stars, which he established in the late 90's with the Wetlands Preserve Club and is still going strong today.
Drums: Most fans of the Grateful Dead know what a great drummer Dave is, but more and more are coming to realize that Dave is a multi-talented musician to be reckoned with. In addition to his long tenure with Zen Tricksters, Dave drums for the excellent alt-rock band Assembly of Dust and his own eclectic Dave Diamond Band where he is the lead singer, guitarist and songwriter.
Vocals: From New York City, Clare Maloney has been hailed for her "golden voice of immense range and depth," and has delighted audiences around the world with her thoughtful artistry, polished singing, and wholehearted performances. Her interpretations of the Grateful Dead are earning her a steady following on the Jam Band scene, and she sings regularly with Rainbow Full of Sound and the Englishtown Project.
Keyboards/Vocals: Mark has distinguished himself over the last few decades as one of the principle keyboardists in the jam band world. His band, Max Creek, has been on the scene since 1971 and are still going strong today playing many shows and producing their own annual festival, Strangecreek. He and they have carved out a firm space in jam band history.
Keyboards/Vocals: John was at the Englishtown show in '77, and was actively playing the music of all three acts in a popular Jersey shore band at the time. His influences include Keith Godchaux, as well as many of the same jazz, blues, country, and bluegrass artists that inspired the Dead. He produced recordings by local talent including Sandy Mack, and currently performs regularly with Dead On Live, Bobby Bandiera, and the Voodudes.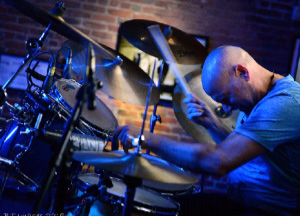 Drums: A highly versatile drummer, Alan is an in-demand session and live drummer throughout the tri-state area. Known for both his power and feel on the kit, Alan toured with Joe Gallant & Illuminati and the Zen Tricksters. He's played extensively with Jerry Jemmott, Mike Gordon, Levon Helm, and Hubert Sumlin, and currently performs with The Joni Project, various projects of Hot Tuna, and New Riders of the Purple Sage's Michael Falzarano, including the Englishtown Project and Dead Sage.