Recorded live at The Fillmore East in New York City N.Y. on December 31st, 1969 & January 1st, 1970, the Band of Gypsys debut recording consisted of six tracks released to the public on March 25th, 1970 – close to fifty years ago. That vinyl record established the template for the Funk & Roll genre.
The re-releases, with new tracks & multiple versions of the six tracks from the Fillmore shows, illuminated that Jimi Hendrix, Billy Cox, and Buddy Miles never played a tune the same way twice, breaking away from the "note-by-note" live renditions prevalent in Pop & Rock hit songs at that time. This "breaking away" also highlighting BOG's use of improvisational interplay within the Pop/Rock song structure, which up to that time, had usually been exercised by Jazz musicians.
The Vernon Reid Band of Gypsys Revisited Band (VR-BOG-RB) have known each other since 1985, sharing the stage in bands such as the Screaming Headless Torsos, Yohimbe Brothers, Burnt Sugar the Arkestra Chamber and The Black Rock Coalition Big Band.
Thirty-three years later these four riff-loving Playas are fusing to groove once again.
In the spirit of revisiting, refreshing and further exploring the fun, funk & roll of the "Band of Gypsys Live at The Fillmore East" recording, Vernon Reid, André 'Dré Glo' Lassalle, James "Biscuit" Rouse, and Jared Michael Nickerson as VR-BOG-RB excitedly look forward to bringing this limited edition performance to your hamlet, city, town, or county fair in 2018.
Vernon Reid
Guitar, Vocals (Living Colour, James Blood Ulmer, Yohimbe Brothers, Burnt Sugar Arkestra)
As the lead guitarist and founder of Living Colour and a co-founder of the Black Rock Coalition, Vernon Reid has done a great deal to undermine stereotypical expectations of what kinds of music black artists ought to play; his rampant eclecticism encompasses everything from hard rock and punk to funk, R&B and avant-garde jazz, and his anarchic, lightning-fast solos have become something of a hallmark as well.
Born in London, Reid and his family emigrated to Brooklyn while he was a child; he began playing guitar at age 15, initially studying jazz and progressing quickly. In 1980, he joined drummer Ronald Shannon Jackson's Decoding Society, a cutting-edge jazz group with whom he appeared on six albums; over the course of the decade, Reid went on to work with a wide variety of experimental musicians -- Defunkt, Bill Frisell, John Zorn, Arto Lindsay, and Public Enemy, among others.
Around 1983, Reid formed the first version of what was to become Living Colour; in 1985, with journalist Greg Tate, he formed the Black Rock Coalition, an organization devoted to opening doors in the music business for black musicians who were not content being confined to the roles of soul crooner or rapper. Living Colour did not really begin to jell until their lineup stabilized in 1986, and when Mick Jagger saw the group perform at CBGB's and invited them to appear on his Primitive Cool album. Jagger went even further, producing two demo tracks and helping to convince Epic to sign the group. Living Colour debuted to massive critical acclaim in 1988 with Vivid; the group lasted through Time's Up (1990) and Stain (1993) before disbanding in 1995. Reid has continued to make periodic appearances on others' recordings, and in 1996, he issued his solo debut, Mistaken Identity. He resurfaced in 2002 as one half of Yohimbe Brothers, a duo also featuring DJ Logic. The two released the Front End Lifter album in September and subsequently toured the United States together with Latasha Nevada Diggs, Deantoni Parks, Leon Gruenbaum, MC Redrum and Jared Michael Nickerson throughout October.  They issued a followup in 2004 on Thirsty Ear entitled The Tao Of Yo. Reid has remained active as both a session guitarist and as a producer, most notably on James Blood Ulmer's recordings since 2001 beginning with Memphis Blood: The Sun Sessions in 2001 and continuing through 2003's No Escape From the Blues: The Electric Lady Sessions, 2004's Birthright and Bad Blood in the City: The Piety Street Sessions in 2007. Also in 2007, Reid, bassist Jamaaladeen Tacuma, and drummer Grant Calvin Weston played a get-together for the closing of New York's Tonic performance space. The show went well enough for the trio form a band called the Free Form Funky Freqs; their debut album, Urban Mythology: Volume One was released as part of Thirsty Ear's Blue Series in February of 2008. Most recently, Vernon has been touring with his project "Masque," and the Burnt Sugar Arkestra, working on film scores, and producing projects such as "MazzMuse: The Band."
Living Colour released their latest recording, "Shade," in 2017. Vernon will also be recording and touring with Yohimbe Brothers along with DJ Logic, his big band "Hexadecimal Gris-Gris" featuring some of best players in New York as well as The Zig Zag Power Trio (WMV) featuring Will Calhoun and Melvin Gibbs throughout the year.
Andre 'Dre Glo' Lassalle
Guitar, Vocals (Lady Miss Kier, Eye & I, Burnt Sugar Arkestra)
André Lassalle from Hempstead Long Island N.Y. has played guitar for over forty-five years.  A host of styles in André's arsenal from rock to reggae to rhythm and blues, and all styles in between has allowed Dré to hit the studio & stage with the legendary Miles Davis, Robert Irving III, Darryl Jones, John Schofield, Buddy Williams, Jerry Jemmott (Bassist with King Curtis & The Kingpins, Aretha Franklin & Greg Allman and Friends), Huey Lewis, Melvin Sparks, Gregg "The Professor" Woods, Tony Humphries, Lady Miss Kier and Dee-Lite (Power Of Love Guitar Mix), Michael Hampton (Parlament-Funkadelic) and experience an over twenty year musical association with fellow guitarist Vernon Reid from the group Living Colour.
André toured with Epic recording artist Eye and I and has been the opening act with his own group … André Lassalle and Premonition for Billy Bragg, Ice T, Greg Lassalle (a cousin who is a talented musician from Toronto) and Ziggy Marley.
He has performed with Buddy Guy, Hubert Sumlin (Howlin Wolf), Mick Taylor (Rolling Stones) and Robert Randolph (Family Band) at NYC's Beacon Theater; along with Queen Esther Marrow & the Harlem Gospel Singers and Greg Tate & Jared Michael Nickerson's Burnt Sugar the Arkestra Chamber.
André and Tony Humphries (world renowned Mix DJ) have recorded in the past and are currently working on new projects that will explore new avenues of experimentation and sound.  One of those projects is a re-mix of "But Beautiful" featuring Billie Holiday for Sony Legacy Records.
Wayne Kounty of Warner Bros. Records featured André on its recent recording "Fantasy World."  The song "Take You Away" from the Wayne Kounty release can be found on the movie soundtrack "PUSH" which aired on Showtime.
James 'Biscuit' Rouse
Drums, Vocals (Miss Lauryn Hill, Screaming Headless Torsos, Vivian Green)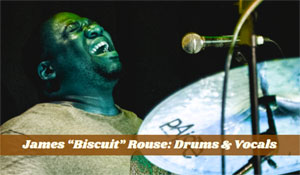 Chosen to lead the rhythm section for a countless number of luminaries, James "Biscuit" Rouse has provided the pace for Nile Rogers & Chic, Stevie Wonder, Chaka Khan, Usher and Pharrell Williams. For five years he served as the drummer, programmer and musical director for the Miss Lauryn Hill Band, and most recently backed Mobb Deep's Prodigy during his residency at the legendary Blue Note Club in New York.
A Philadelphia native, James began his musical training in church and attended the Philadelphia High School for Creative and Performing Arts, which produced other notable acts Bilal, Boyz II Men and The Roots. Studying both vocal performance and instrumental music, James excelled as a vocalist and musician before continuing his education at Temple University majoring in jazz performance and music technology.
James quickly grabbed attention and acclaim from artists both within and outside of his hometown of Philadelphia. Lady Alma, Kindred the Family Soul, Bilal, Jazmine Sullivan, Kelis, Ray Chew, The Jazzyfatnastees, Camp Lo, Talib Kweli, Kelly Clarkson and Gerald Veasley have all shared the experience of James keeping time behind them.
In 2009, James teamed with one of house music's biggest producers, Kenny Dope to release his first commercially available project, an EP titled "Money for Love". This was the first time that he took the spotlights as a vocalist, and set the ground for his self-produced debut album "Conversations in Analog, Vol. 1". This album covered the genres he was most known for: jazz, R&B/soul and house. In addition to being the drummer/programmer on the album, he also showcases himself vocally on the album-ending track "Freedom".
This year, 2017, James and his band, The Buttered Biscuits, released his follow-up EP, "Biscuit Street" which features a re-interpretation of the Tears for Fears classic "Everybody Wants to Rule the World", and Alyson Williams on a cover of the Emotions classic "Don't Ask My Neighbor". The project is the most personal of any he's worked on for any artist, as it includes "Give It A Chance", the song he wrote to propose to his wife.
Currently, James is touring as the musical director for Vivian Green and featured drummer for the Screaming Headless Torsos. He continually finds inspirations in both legends like Buddy Miles, Phil Collins and Earth, Wind & Fire, as well as contemporaries and friends Lil' John Roberts and Ahmir '?uestlove' Thompson.
Jared Michael Nickerson
Bass, Vocals (The The, Charlie Musselwhite, Burnt Sugar Arkestra, Yohimbe Brothers)
Born in Cleveland Ohio and raised in Dayton Ohio Jared starting playing bass in high school talent shows as part of the legendary Dayton funk scene which spawned the Ohio Players, Slave, Roger Troutman & Zapp, Sun, Dayton, Steve Arrington's Hall of Fame, Faze-O and members of Heatwave. He continuing his musical development at the University of Notre Dame under the direction of Father Wiskerchen, noted for his development of three members of the band Chicago's horn section; after graduating with a B.A. in Business Management, Jared then moved to Boston and studied for two years at the New England Conservatory of Music.
Returning to Ohio, Jared joined The Human Switchboard, where after three years of touring the Midwest & East Coast, moved with the band to New York City and immersed himself in it's 80s music scene (Danceteria, Peppermint Lounge, Hurrahs, Maxwells, the World).
After Human Switchboard dissolved Jared started his own band JJ Jumpers; eventually joined the Black Rock Coalition becoming the B.R.C.'s first Director of Operations and booked the BRC's first two-day mini-fest at CBGBs entitled Stalking Heads.  When he left the BRC his position had transformed into an East and West Coast Booking Committee led by a select number of BRC band leaders, whom had access to rock rooms all across the country.
As a free lancer Jared has recorded and toured with Melvin Van Peebles, England's The The, Nona Hendryx, Freedy Johnston, Vernon Reid (solo) and with The Yohimbe Brothers (Vernon Reid & DJ Logic), Darlene Love, Gary Lucas's Gods and Monsters, Jeff Buckley and Tammy Faye Starlite and the Angels of Mercy.  He has performed with/toured with Wadada Leo Smith, Catie Curtis, Bernie Worrell, Marshall Crenshaw, The Roots, Katell Keineg, Marc Anthony Thompson, Marc Cary, John Paul Bourelly and The Raybeats.
Jared co-wrote a tune, recorded and toured with blues great Charlie Musselwhite in support of "Sanctuary," on Peter Gabriel's Real World label This CD found itself on numerous critic top ten lists at the end of the year and also received a Grammy nomination for best blues recording in 2004.
Jared's television appearances include Late Night With David Letterman, The Jools Holland Show, MTV, VH1, The Tonight Show with Conan O Brien, The John Stewart Show and The Kennedy Center Honors BB King Tribute Band, which included Bonnie Raitt, Dr. John, Etta James and the late Joe Williams. Jared also appeared in Nelson George's "Finding The Funk" documentary.
Jared has toured extensively performing at venues such as the Toronto Skydome, the L.A. Forum, the Oakland Coliseum, England's Brixton Academy & Reading Festival, The Beacon Theater and Madison Square Garden.
Questions About SFJAZZ Performance answered by Vernon Reid   
1) What will be the focus of the music performed during the SFJAZZ performance(s)? Will the artist be performing music from any specific project(s) or recording(s)? (ie. Music from new album or specific project, performing a tribute, etc.)
" VR~BOG~RB is going to explore the music of Jimi Hendrix's Band Of Gypsys power trio that also featured Billy Cox on bass & Buddy Miles on drums.  That group made one live recording from The Fillmore East on 2nd Ave in New York City on New Year's Eve in 1970. VR~BOG~RB will consist of myself, Vernon Reid on guitar & vocals, André Lassalle on guitar & vocals, Jared Michael Nickerson on bass & vocals, & James "Biscuit" Rouse on drums & vocals."

2) Is there anything else unique or significant about the artist's SFJAZZ performance(s)/tour?
"We are not going to play a note-for-note recreation of the Band Of Gypsys, but reinterpret it from an improvisational viewpoint."

3) Is there any information that the artist feels strongly be included or not included in the marketing materials to help describe the performance(s)? (ie. local connections, awards, other project associations, first time collaboration, etc.)
"I'd like folks to know that although this group was freshly assembled for this limited-time project, we've all played with each other over the years in bands such as The Yohimbe Brothers, Burnt Sugar the Arkestra Chamber, and at various special events in the New York area and these are some of my favorite musicians to jam with.  Here's a bit about myself and my VR~BOG~RB compadres."
Jimi Hendrix Band of Gypsys' Reflections from James, André, and Jared
James "Biscuit" Rouse
"Band of Gypsys' was the first of its kind back then all around. I view it as a Rage against the Norm."
André "Dré Glo" Lassalle
I started playing guitar around 1971 introduced to rock hearing the likes of the Beatles, Monkies, The Animals and The Doors. It was a kind of pop music which I didn't see as a musical revolution, just more of a different approach to rhythm I felt at the time. My ears were more familiar with James Brown, and a lot of the Motown catalog like The Temptations' "Poppa Was A Rolling Stone". I also liked Dennis Coffey who had a hit song entitled "Scorpio" that was one of the first times, besides The Temptations 'Psychadelic Shack", that I heard distortion guitar used in Soul Music.
It was when I heard "Who's That Lady" by The Isley Brothers that I heard my instrument of choice in a way that I was able to relate to how distorted long sustaining guitar could be applied to Soul Music. (Also Mandrill "Fencewalk and "Hang Loose").
It was about that time I was befriended by a Brother by the name of Hassahn Neals, who was a Black American Indian Rock Guitarist. We played in a neighborhood band and after a while I lost touch with him for about 2 months. I saw him one day and started going berserk about Ernie Isley and he told me plain and simple that Ernie was not the the creator of this style, but that he got it from this dude Jimi Hendrix who at the time I constantly mixed up with Eddie Kendricks. He brought me to his house and the very first thing I heard was Band of Gypsys's "Who Knows". I listened and scoffed, "This dude ain't better than Ernie, heck, his guitar is out of tune!" Then about two days later he let me hear "Pali Gap" from Rainbow Bridge and it had me emotionally in tears. Now with a new frame of mind, I re-listened to "Who Knows" and all I heard was genius. I realized this Dude was killing with emotion, even though, his guitar was out of tune. I was completely speechless. Hassan went on and put on "Machine Gun" and that song single handedly changed my life. It sounded like there were creatures living in Jimi's notes, it truly opened up my musical chakra. I'd never heard musical expression like that before and the pure emotion of suffering coming from Jimi's guitar, amp and soul.
From that point on "Band Of Gypsys" was the standard on complete expression of guitar playing for me. I had found my religion through this pastor of the universe. I was a completely converted musician from that point on understanding … it's not the technique but the intent of one's playing that makes the difference."
Jared Michael Nickerson
I was a high school junior immersed in the Dayton Ohio Funk scene when Band of Gypsys's was released. Dayton at the time was a very vibrant city blending a relaxed "down home" sensibility with a diversified manufacturing ( National Cash Register (NCR), Inland Steel, Mead Paper Company, Reynolds & Reynolds and a number of American car manufacturing plants) and military ( Veteran's Administration & Wright Patterson Air Force Base ) work force.
Hence many two-headed households were earning a "nice penny" leading to a plethora of basements being converted to entertainment dens. With parents, including mine allowing us kids to play for hours on end in dens and living rooms around town, along with Dayton high schools possessing thriving music departments and presenting "talent shows" four times a year and churches featuring full bands for services, there were ample opportunities for us to hone our musical skills, perform and express our talent at a very young age.
There were certain songs you had to know to jam on the Dayton den circuit and when Band of Gypsys was released "Who Knows" and "Power of Love" were two of the "must have under you fingers" tunes. "Power of Soul" in particular was revelatory as we would take each of the first four motifs and lay in each motif endlessly and groove. Groove was of upmost importance in Dayton and "Power of Soul" was pure groove so it was an immensely popular tune to jam on.
I'd like to also mention my fondness for Buddy Miles' drumming and singing. Being familiar with him through his playing in Mike Bloomfield's "Electric Flag" and the two "The Buddy Miles Express recordings "Expressway To Your Skull" and "Electric Church" with the latter's second side being produced by none other than … Jimi Hendrix. Buddy Miles was a bad, bad man …may he rest in peace.
Listening to "Are You Experienced" with Mitch Mitchell was mind blowing, but the Band of Gypsys with the combination of Hendrix's mind-altering playing grounded by Billy Cox and Buddy Miles' rock and lock-it-in-the-pocket foundation provided the best mind, body and soul vibration I had experienced at that time. The next instance where I was touched by a recording like the Band of Gypsys was the first, second and third time I heard Herbie Hancock's "Headhunters" with another stellar rhythm section … Paul Jackson and Harvey Mason.